The Fall City 40
December 7, 2019
FINAL UPDATE (April 1, 2020): The remaining Fall City 40 horses are now officially SAFE horses. They have become part of our herd, and will remain SAFE horses until they can be adopted into permanent homes. This means that all of these horses will join SAFE's Horsemanship program and be provided with the education they need to become solid equine citizens. Most of them will be started under saddle once they are ready. Those who don't become riding horses will become companions. All will be given the best chance possible for a permanent home, and a lifetime of safety. You can follow their progress on the main SAFE website:
• Artie Shaw
• Barb
• Jill
• Tilt
• Pepper
• George
• Veronica
• Caramel
---
UPDATE (Mar 3, 2020): We started back in June with 40 horses…and we could not be happier that 30 of those horses are now in new homes, getting the care they need and deserve. That leaves ten horses who still need homes. You'll notice that on the last update, we said that 11 horses are still available…things have REALLY slowed down with placing these horses. A couple adoptions fell through…the weather got ugly…and the public's attention turned to other matters. Of course we knew we were in this for the long haul, but it's been a while since we've even seen a good application for one of these horses. We're really hoping that things will start to pick up now that the days are getting longer again. These horses are ready to start their new lives; are you ready to take one on?
---
UPDATE (Feb 3, 2020): If we're being completely honest, taking on 24 wild horses in the dead of winter seemed like an impossible task, even to us. But we have successfully placed 11 of the seized horses into good homes with experiences handlers, and two more leave this week. That leaves 11 horses that are still available for adoption. Six of these horses are in foster homes where they are being handled, gentled, and halter-started. The other five are now at SAFE. We have handsome stallion Arty Shaw, and a group of four fillies. All five are getting accustomed to the presence of humans. They're shy, but we're encouraged to see that all of them are curious and interested in interacting with us. We've also noticed something wonderful: now that the four young mares do not have to worry about getting enough to eat, they spend time together playing like little kids. Here are some videos we captured during the recent snow:
Homes for the remaining 11 horses are still needed. If you have experience with unhandled, wild horses, please consider giving one of these beauties a home! Submit an adoption application here Adoption Application
---
UPDATE (Jan 7, 2020): It's been about a month since the remaining Fall City 40 horses were seized in Enumclaw. These 24 horses have all been signed over to SAFE now, so we have full responsibility for their housing, feeding, and vet care, and we are taking steps to find homes for as many of them as possible. We are so grateful for the support we are receiving from this community to help us manage this huge rescue effort! It's a lot of work, but with your help, we are making big changes for these horses!
With regular feeding, the horses are starting to look and feel a lot better. There are some really nice looking horses in this group with cute markings and decent conformation. We've even discovered some unexpected athletic ability (like jumping!) in one or two of them. Most of them at least seem open to the idea of sharing the world with humans, and are becoming more gentle already. Wild horses are a challenge, to be sure, but most of these horses were born into this herd, not in the wild, but not exactly in captivity either. So we hope the young ones especially will make an easier transition from wild to domesticated.
As of this moment, six of the 24 horses — four mares and two colts — have been moved to new homes. Several of the remaining horses are in the process of being sent to foster care with experienced trainers for gentling, which will make them much easier and safer to place into adopt. All of the stallions will soon be gelded, and we're finding adopters who can take in mares who are likely to be pregnant. Progress is being made.
But this is a tough time of year to be placing horses, and these are horses who are especially tricky to place. So we still need our community's help with this rescue effort. Specifically, what we need includes:
• adopters who have experience with wild, unhandled horses
• trainers willing to foster and gentle one of these horses so we can place them more easily
• donations for the considerable cost for care, feeding, housing, vet costs, and transport of these horses
• people keeping an eye out for the missing mare, stolen by the owner, and for other groups of horses possibly owned by the same individual
---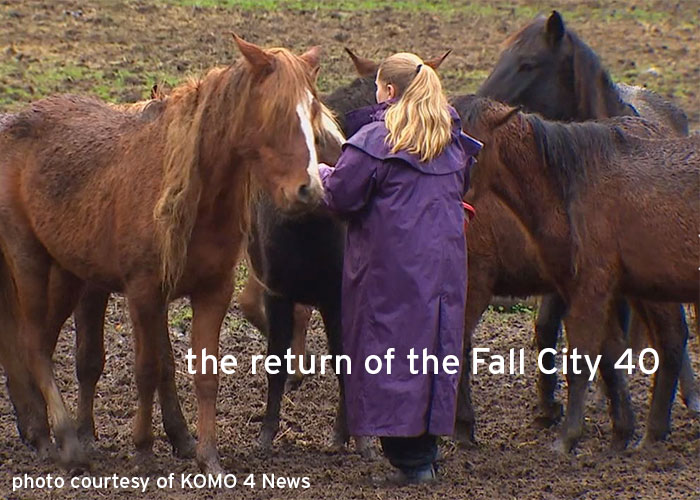 Earlier this year, SAFE was called in to help with the emergency dispersal of a herd of 40 wild horses abandoned on a property in Fall City WA. We were able to find new homes for 15 of the "Fall City 40" before legal disputes over their ownership forced us to suspend the rescue efforts we made on behalf of the property owners. The horses were removed shortly after by their owner, and hidden at a remote location in Enumclaw.
On Saturday, Dec 7, the King County Sheriff's Office, in cooperation with Regional Animal Services of King County and SAFE, was able to remove 24 of the 25 remaining horses and take them into custody. The horses are currently being held in a secure location where they have food, water, and shelter. The horses will remain in custody as the investigation continues, but SAFE has agreed to take over ownership once we are legally able to do so. We are seeking adopters who have experience with unhandled, wild horses, and would like to have new owners lined up when the horses are released. All stallions will be gelded before they are adopted to members of the public.
SAFE has assumed responsibility for the costs associated with housing, feeding, and caring for these horses. Funds donated to SAFE this summer for the Fall City Forty have been held in reserve for this very purpose. Additional donations are welcomed and needed. Any donated funds that are not used specifically for these horses will be used for the care and feeding of the other 30 horses in SAFE's rescue program.
Thank you so much for your amazing support.
Bonnie Hammond
Executive Director
SAFE | Save a Forgotten Equine
MEDIA INQUIRIES
contact
Bonnie Hammond
Executive Director
bonnie@safehorses.org