Pepper
sex: filly
age: 2.5 
color: light bay
markings: blaze, RH sock
location: Port Orchard, WA
Pepper is one of 24 wild Yakima horses seized in December 2019 by King County Sheriff's Office, in cooperation with Regional Animal Services of King County and SAFE. Since then, Pepper has been spending quality time with her foster family learning how to enjoy grooming, be led by a halter, and ask for a cuddle. (She's really sweet.) Pepper would make a fantastic project pony to finish your way.
We've heard from Pepper's new foster home–she's settled right in and is happy to kick up her heels with Tilt! Both of these girls are coming along beautifully and are ready to find their forever families.
Pepper has settled into her new foster home beautifully (with Tilt to keep her company!). She walks right up to whomever comes out to the paddock to visit or work, and will give a sniff and accept a pet every time. Pepper, even though very green, is exhibiting a wonderful, patient personality in teaching her (very new to horse care) Foster Family how to halter, groom, and lead a horse. This little filly is a sweetheart, but has a certain streak of sass; you can clearly see it in the way that she tosses her head and shows off her gorgeous, thick mane!

We are working on some slightly more advanced groundwork, using the lass rope in the early steps in preparing for saddling and doing a good bit of conditioning work now that she is healthy, inside and out.

Pepper loves to be groomed and have the attention and affection poured on! She has been good for the vet, was a champ for the farrier, is very gentle about having her feet handled.
Meet Pepper, formerly known as Filly #125!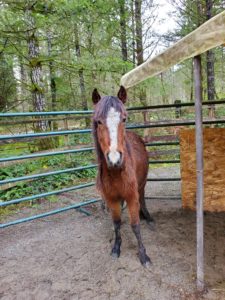 This little one is proving to be brave, smart, and kind… with a good stubborn streak in there as well! Pepper likes her living area (a three sided shelter with mats), keeps it quite tidy, and has decided that her Timothy hay makes a better bed than dinner…. and that yummy Alfalfa is far preferable to boring old Tim!!!
Due a LOT to the weather the past few weeks (but also, life.), our time has been much more limited than I would have liked, but this little one is making some lovely progress! She is learning how to lead with a lass rope, and has accepted and seeks out scratches on her face and shoulders, but is still not so sure about having a human hand on both sides of her neck at once. She is also very wary of things passing beneath her chin (as are most horses!), so we are doing a lot of halter prep work with the lass rope at this time. She's doing hindquarter front quarter and changing of eyes beautifully and leading all around her shelter with the lass.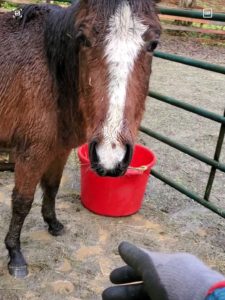 Pepper has had the rope all over her body, around her legs and rump, and under her belly – and has accepted it all with style! A couple of half-hearted kicks the first few times it went around her rump, but nothing vicious; just trying to figure out if that would get rid of it.
Pepper pops right over to the fence when I come down for a hello sniff and scratch, and during work sessions she's had some BIG releases in the lasso work that ended in a series of HUGE eye-rolling yawns; after which she'll approach me to snuffle my ears and hair and stand hip-shot with me for several minutes – it is SO STINKING CUTE!
Excited for this little one's future and progress!! Please fill out an application to adopt her today!